Main image (from left): Peter Spowage (RAFBF) joined by Aimee Sanjari, Doug McConkey, Paul Jackson, Jon Rissik, and Stephen Hood from Dovetail Games
On Saturday 2nd May 2015, I headed up to Biggin Hill to spend time with a group of bikers from the RAF Benevolent Fund  on part of their Round the World Motorcycle ride, sponsored in part by Dovetail Games (for full details, click here).
Our day started with a blessing of the bikes at St. Georges RAF Chapel of Remembrance. Here, I was introduced to the guys who had already traveled the UK, stopping at various RAF bases around the country. After a short service had been held and the bikes were blessed, we traveled the short distance to Biggin Hill airport, where Peter Spowage, event organiser, had arranged for us to get up close and personal with some of the aircraft in the Biggin Hill Heritage Hangar at EGKB. Upon our arrival, we were joined by Battle of Britain veteran 94-year-old Rodney Scrace.
After looking around the hangar, we headed up to the Spitfire Cafe where VE Day celebrations were well underway. We arrived just in time to watch this heartfelt presentation:
Roger Pierce was presented with medals he earned as a senior aircraft technician for RAF Squadron 70 during the Cold War, which had been lost during a Ride of Respect charity event a couple of years ago. A RAF commanding officer presented him with replacements, consisting of the  PJM Malaysian Service Medal, the General Service Medal, the Cold War Medal, and the UN Peacekeeping Force in Cyprus Medal.
The Spitfire Cafe VE celebration featured several military vehicles, a replica of the Steve McQueen motorbike, and was attended by Cllr Julian Benington, Mayor of Bromley.
After all of the excitement at the Spitfire Cafe, the boys and I headed to Capel le Ferne for quiet reflection and a cup of tea.
The Battle of Britain memorial at Capel le Ferne was built upon part of a former WW2 coastal battery, where Battle of Britain was fought overhead in 1940.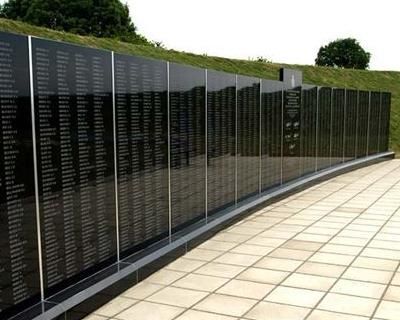 The Christopher Foxley-Norris Memorial Wall (above) lists the names of all those who took part in the Battle of Britain, whilst a replica Spitfire and Hurricane stand nearby as a reminder of the iconic machines. Located atop the White Cliffs of Dover, the monument itself is formed of a large propeller-shaped base, with the figure of a seated pilot sitting at the center.
The sun was starting to set over the cliffs as I waved goodbye to the RAFBF bikers, who left in order to prepare for their journey across the channel. After spending a week in Europe, they will return to the UK on 10th May 2015 for a culmination event held at Maidstone Harley Davidson.